Trichology may sound like a fancy word, but it's really pretty straightforward: Trichology refers to the study of the scalp and hair. The entire point of trichology—and of our commitment to it here at Transitions Hair Solutions—is to help men and women address the common scalp ailments that impede hair growth and scalp health. By implementing the most advanced trichological practices, we strive to help our clients create the best possible environment for hair to grow.
Everything we do is rooted in our understanding of how trichology works—but what does that mean for you as a client? If you are struggling with any level of hair loss, we invite you to join us at Transitions Hair Solutions for an evaluation. Working one-on-one with a consultant in our Wall Township center, you'll get to the root of what's causing your hair loss, and begin developing some methods for reversing the process.
Tricotest
It all starts with the Tricotest. The Tricotest is a microscopic analysis of your scalp and hair, and an evaluation of their overall health. Using the Tricotest provides a close analysis allowing us to identify common issues, such as dirt and styling product build-up, bacteria and fungus, DHT enzyme symptoms, sebum build-up, and lack of hair nutrition. The Tricotest works for both men and women, and having it performed is simple, easy, and convenient. From there, we can recommend products and services that are targeted to your hair loss needs.
CRLAB Trichological Products from Cesare Ragazzi Laboratories
We are especially proud to be an exclusive provider of CRLAB trichological products from the researchers at Cesare Ragazzi Laboratories. The name Cesare Ragazzi is synonymous worldwide with uncompromising quality in hair replacement and hair care solutions—and they have done it again with their comprehensive line of Trichology products. Formulated to nourish and improve the look and feel of virtually any hair type or scalp condition, the CRLAB line of trichological products and protocol is revolutionizing the way stylists and hair restoration professionals treat all hair types.
Following a scalp analysis and Tricotest assessment, we will help you determine the specific line of CRLAB products that best meet your needs. All of these products are made from natural ingredients, such as plant stem cells and essential oils. They are also paraben-free. Havogen 5 hair loss prevention patches are also part of the CRLAB trichological line, along with anti-sebum treatments, pre-shampoo treatments, anti-dandruff moisturizers, restructuring and styling products, and more. These treatments are all available for programs in our center or in-home use, and provide the right assortment of nutrients to create ideal healthy scalp environments for new hair to grow.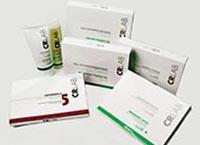 Trichology Treatments at Transitions Hair Solutions
Bottom line: The Tricotest can help identify some specific areas in which these products can aid in your hair growth—and from there, our stylists are happy to suggest a specific course of action. The process starts when you join us in our NJ studio for a consultation. Come meet our friendly and supportive staff, and learn more about the hair loss answers that await you in the Trichology product line. Contact Transitions Hair Solutions today.